Staff Bios
Brooke Goldstein - Founder and Director of CRI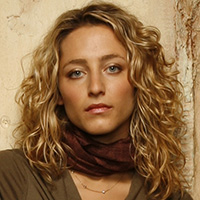 Brooke Goldstein is a human rights attorney based in New York City and an award-winning filmmaker. Brooke is the 2007 recipient of the E. Nathaniel Gates Award for Outstanding Public Advocacy, is currently an associate fellow at the Henry Jackson Society, was formally an adjunct fellow at the Hudson Institute and served as the Director of the Legal Project at the Middle East Forum from 2007-2009. Brooke currently serves as director of The Lawfare Project, a not-for-profit dedicated to raising awareness about the abuse of the law and legal systems for political or military means.
The issue of spreading awareness and upholding human rights, namely the child's right to life and to an education and media free of incitement to hate and to kill themselves, is of primary concern to Brooke and she works as a filmmaker, activist and legal advocate to that end. Brooke has made several media appearances including on FOX News, CNN, the John Batchelor Show, WABC News Talk Radio, CBN, TVE (of Spain), CBN, RAI (of Italy), NYC TV (local ch.25), Time Warner's "Faith to Faith" television show (Brooke's episode won the Telly Award for Outstanding Programming), and has been featured in the New York Sun, The American Spectator, The Counter Terrorist Magazine, The New York Daily News, the Jewish Weekly newspaper, the Alaska Daily News, the Canadian Jewish News, Jewcy.com, USINFO, Counter Terrorist Magazine, and Swindle Magazine.
Brooke has been invited to brief government officials at the U.S. State Department, the White House, the UK Parliament, and at U.S. Central Command Seminars, and she has visited U.S. military schools and conferences to speak on issues of asymmetric warfare and human rights. Brooke is a seasoned public speaker and lecturer and has taught seminars at various schools including the Benjamin N. Cardozo School of Law, New York University, Berkeley University, and Stanford University.
As an effort to facilitate public awareness and fruitful discussion of human rights violations against children ignored by the mainstream media, Brooke co-founded A2B Film Productions Inc., a Canadian-based independent documentary film production company focused on creating films that expose and explore such issues.
Filming the documentary Martyr, Brooke ventured into the West Bank and at great risk personally interviewed active and armed members of the Al-Aqsa, Fatah and Hamas terrorist groups, including Israel's most wanted abject killer Zacharia Zubeidi (former leader of the Al -Aqsa Martyrs Brigades in Jenin), as well as families of suicide bombers, members of the Palestinian Authority, children's television programmers at PA TV, Palestinian children living in the West Bank, teachers at Palestinian elementary schools, child psychologists, and children imprisoned for attempting suicide missions or otherwise participating in armed activity against the IDF. Brooke has a fresh, on-the-ground perspective of why youth become suicide bombers, how those close to them react to these decisions, how communities encourage this kind of violent extremism, and what we can do to prevent this phenomenon from spreading.
If you would like to contact Brooke or arrange for a speaking engagement, please email her at [email protected]
Rebecca Wainstein - Director of Marketing and Publicity
Rebecca Wainstein serves as Director of Marketing and Publicity for the Children's Rights Institute. She is currently a Client Training Executive at Thomson Reuters. Before her employment with the news agency, Ms. Wainstein graduated with honors from New York University with a Bachelor of Science in Communication Studies and a concentration in Marketing and Media Studies. She plans to pursue her MBA in the near future.
Jordana Gutman - Secretary

Jordana Gutman was born and raised in New York. She received her B.A. from the University of Michigan in 2002 and her J.D. from the Benjamin N. Cardozo School of Law in 2005. Ms. Gutman is admitted to practice law in New York, New Jersey and Florida. In 2006 she founded The Law Office of Jordana M. Gutman, P.C., specializing in Landlord Tenant Litigation, Residential and Commercial Real Estate, and Small Businesses.
Elisa Rojas - Research Assistant
Elisa Rojas is a graduate of the University of Iowa with a B.A. in Political Science and International Studies with an emphasis on European Studies. She is currently pursuing a legal degree at New York Law School. Ms. Rojas has previously worked with the University of Iowa Center for Human Rights and continues to pursue her interest in international law and human rights law with her work as a research assistant at both the Children's Rights Institute and The Lawfare Project.
© 2023 Children's Rights Institute.